Project supported by the Elsass Foundation works towards early detection of CP
The goal of a new nationwide research project is clear - cerebral palsy needs to be detected in children much earlier so they can get the right help and training, while it is easier to affect the brain and minimize the consequences of the condition. The project is supported by the Elsass Foundation.
Children in Denmark with cerebral palsy (CP) are often diagnosed relatively late – on average when they are around 13 months old. It is possible to significantly support and strengthen everyday activities and motor functions in children with CP, if the correct treatment and training interventions are initiated as early as possible, while the brain is still developing.
If children are diagnosed when they are younger, e.g., 6 months old, it is possible to help them reach a higher level of motor function, and to help their families learn more about CP. This is the goal of the new research project CP-EDIT, which is led by Professor Chistina Høi-Hansen from the Department of Paediatrics and Adolescent Medicine at Rigshospitalet and Mary Elizabeth's Hospital - in close collaboration with scientists and clinicians from Aarhus University Hospital, Aalborg Hospital, and Herlev Hospital.
Christiana Høi-Hansen explains: "Cerebral palsy cannot be cured, but the prognosis can be improved if children receive the right support as early as possible. We know that the brain is more receptive to intervention in younger children. With this project, we aim to investigate whether we can use a targeted screening program to make the CP diagnosis far earlier than we can today, and to test whether we can use an individually tailored training program for children at risk for CP to reduce the consequences of brain injury."
A national program
The screening program consists of age-specific motor tests, MRI scans, and, in some cases, a genome analysis so that a diagnosis can quickly and safely be confirmed or ruled out, and possible causes can be identified.
The research project CP-EDIT has been made possible thanks to a donation from the Elsass Foundation of approximately 9 million DKK. The donation has made it possible to implement a national framework that ensures that a child neurologist, a physical therapist and an occupational therapist are associated with the project at each of the four hospitals. This interdisciplinary team will be responsible for the neurological assessment, follow up care, and the GO-PLAY intervention.
"We know from research that early diagnosis is important for the child's later development, and we are looking forward to the results of this exciting project," said Peter Lindegaard, CEO of the Elsass Foundation.
The project is part of the development of a CP clinic in Mary Elizabeth's Hospital at Rigshospitalet. The aim of the project is to establish a national collaboration to improve daily clinical routines. The screening program has been established through cooperation between the paediatric departments of the four hospitals.
If one of the hospitals suspects that a child is at risk for CP due to a challenging pregnancy, a difficult illness, or genetics, for example, then the child will be invited to participate in the project. If the invitation is accepted, motor tests will be conducted by a paediatric physical therapist. A neurological evaluation and MRI scan will also be administered.
Earlier intervention and diagnosis
Altogether, 500 children at risk for CP will be screened as part of the project. If a child is deemed at risk for CP, he/she will be part of the study and be followed and monitored regularly until the age of 2.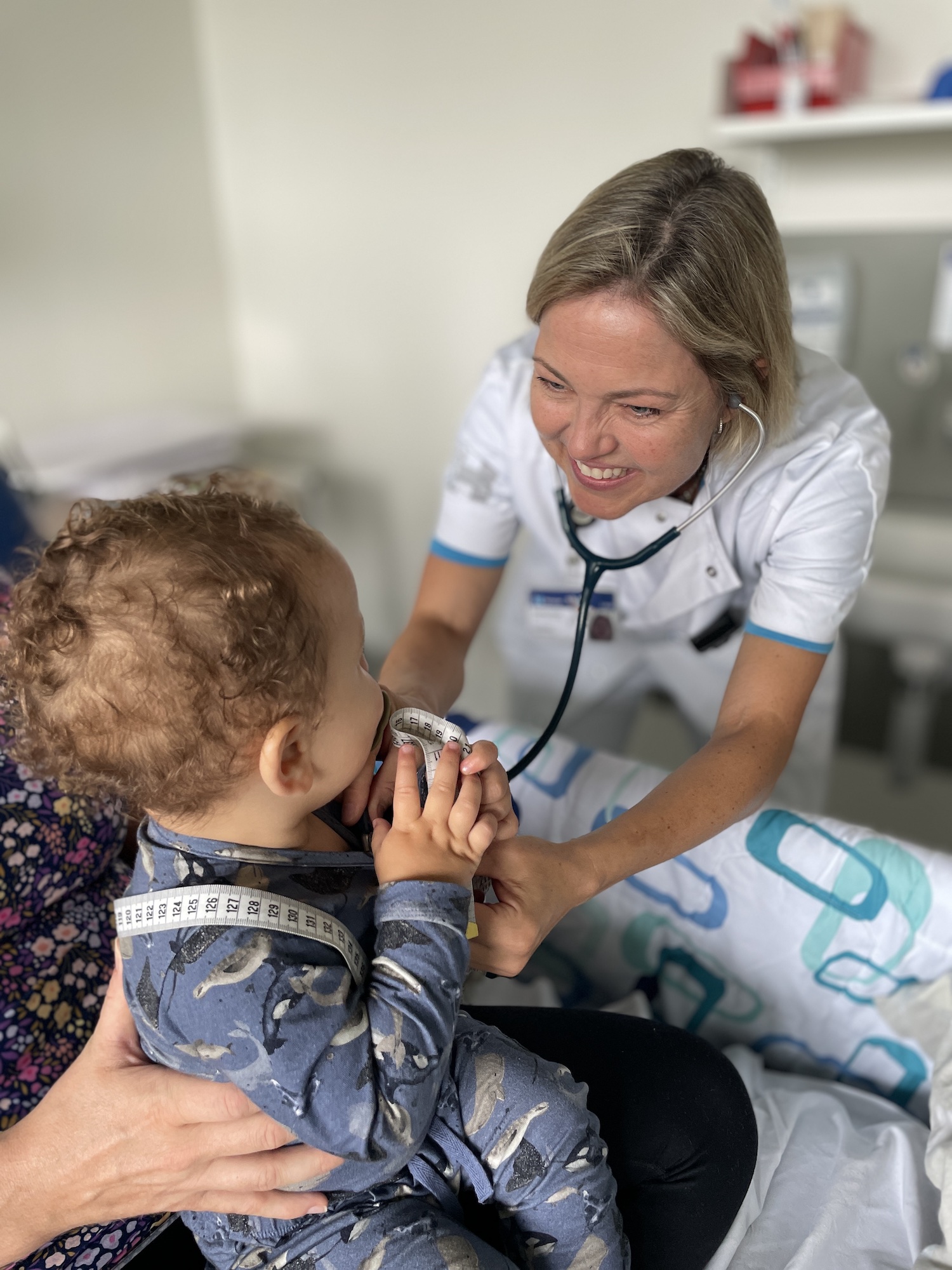 Professor and Chief Physician in Neuropaediatrics Christina Høi-Hansen measuring the circumference of a child's head. PHOTO: Rigshospitalet.
Approximately 160 children who are diagnosed with CP or who are at high risk for CP will participate in the follow-up research. Half of the children - randomly selected -will test the GO-PLAY intervention, where they are offered individualized physical training with help from a physical therapist from the local participating hospital.
Whether participants are placed in the group of children that receive extra individual training or not, scientists think that it is an advantage for children and parents to participate in the study, if they get the chance.
"Through the new screening program, parents participating in the study will get a clear message about a potential diagnosis much earlier than what is possible today, where children are often given time to see if their function improves or worsens. This means that the possibility to support and train the child in the period where the brain is most plastic can be missed. We know that if a child has CP, it helps to stimulate the brain in the right way and to initiate physical therapy early, explains Christina Høi-Hansen.
An example of a training intervention could be that we work towards improving hand function for children with spasticity in one side of their body," Christina Høi-Hansen explains.
Project beginning in 2023
The project will officially begin on April 1st, 2023, when the testing methods and programs have been prepared. The goal of the project is to lower the age of diagnosis, to improve the children's prognosis, and to test all parts of the intervention and follow-up programs so they are ready for national implementation.
Professor Christina Høi-Hansen explains:
"We hope that we can detect CP much earlier than we can today. We believe that this can markedly improve the prognosis, so more children with CP can live a better life. We also hope to validate and test a follow-up program that involves systematic testing and targeted motor training as soon as it is suspected that the child might have CP."
Aside from the support from the Elsass Foundation, the project has received support from Rigshospitalet and the Danish Physical Therapists' foundation for research, education, and practical development.